JUW TUW Washdown Corrosion Resistant Unit Heaters for Harsh Enviroments
JUW TUW Series unit heater is designed for comfort heating or freeze protection in non-hazardous dusty dirty environments including: waste water treatment plants, coal handling areas, food processing plants, foundries, steel mills, cement plants, car washes, swimming pool areas, canneries and dairies.
JUW TUW Series washdown heater is a reliable, rugged, self-contained, UL and CSA listed, corrosion resistant unit heater. This unit offers both corrosion protection in harsh environments and the ability to be hosed down for cleaning. Users are therefore assured of an ideal heat source for freeze protection or comfort heat in non-hazardous, dirty and corrosive areas such as waste water treatment plants, ships, factories and construction sites.
All components are designed to be moisture and corrosion resistant.
A sturdy Type 304 stainless steel case surrounds industrial grade 316 stainless steel finned tubular elements.
The motor is a totally enclosed, permanently lubricated, ball bearing type which is epoxy painted for moisture and corrosion resistance.
The junction box which houses the built-in controls and element terminals is rated NEMA 4X.
Dependable air flow comes from a spark resistant, epoxy coated aluminum fan.
Power contactor, motor contactor, epoxy sealed automatic over-temperature cutout, internal thermostat (55ºF - 105ºF), pilot light to indicate when unit is in operation mode, and selector switch (heater on/off, fan only) are standard.
Stainless steel universal type swivel mounting bracket supplied with heater.
Fan delay on all Models 5kW or larger.
<![if !vml]>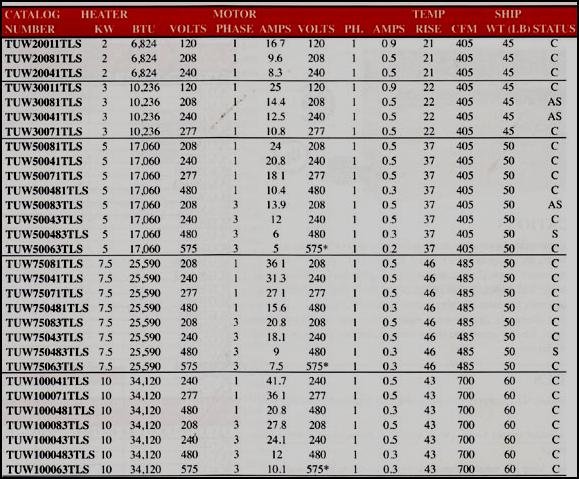 <![endif]>
<![if !vml]>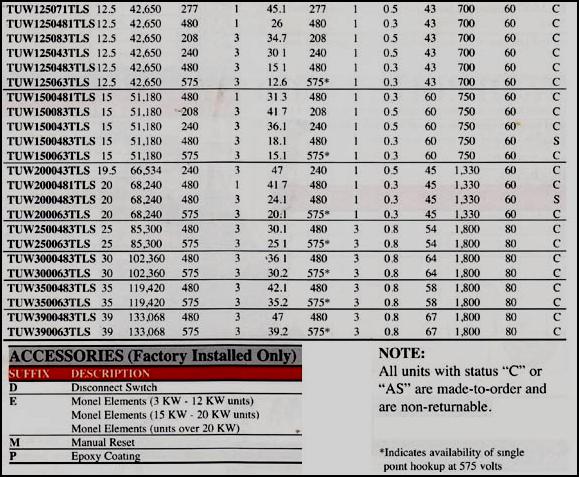 <![endif]>
WEB PRICING

CATALOG NUMBER
Web Price Each
TUW20011TLS
$3,494.00
TUW20081TLS
TUW20041TLS
TUW30011TLS
$3,494.00
TUW30081TLS
TUW30041TLS
TUW30071TLS
TUW50081TLS
$3,589.00
TUW50041TLS
TUW50071TLS
TUW500481TLS
TUW50083TLS
TUW500483TLS
TUW50063TLS
TUW75081TLS
$3,898.00
TUW75041TLS
TUW75071TLS
TUW750481TLS
TUW75083TLS
TUW75043TLS
TUW750483TLS
TUW75063TLS
TUW100041TLS
$4,109.00
TUW100071TLS
TUW1000481TLS
TUW100083TLS
TUW100043TLS
TUW1000483TLS
TUW100063TLS
TUW125071TLS
$4,595.00
TUW1250481TLS
TUW125083TLS
TUW125043TLS
TUW1250483TLS
TUW125063TLS
TUW1500481TLS
$5,290.00
TUW150083TLS
TUW150043TLS
TUW1500483TLS
TUW150063TLS
TUW200043TLS
$5,589.00
TUW2000481TLS
TUW2000483TLS
TUW200063TLS
TUW2500483TLS
$7,549.00
TUW250063TLS
TUW3000483TLS
$7,898.00
TUW300063TLS
TUW3500483TLS
$8,372.00
TUW350063TLS
TUW3900483TLS
$8,579.00
TUW390063TLS
washdown, wash, down, wash-down, corrosion, resist, resists, resistant, unit heat, heating, heaters, dust, dusty, dirty, environment, environments, waste, water, treatment, plant, plants, coal, mine, mines, food, processing, factory, factories, foundries, steel, mill, mills, cement, car, wash, washes, rugged, harsh, hosed, down, clean, cleaning, ship, ships, shipping, 304, stainless, steel, 316, nema, 4x, marley, berko, qmark, industrial, hvac, products, product
Manufacturer and/or distributor cannot guarantee performance because we are unable to control and ensure the proper use. Manufacturer and/or distributors warrant only that products substantially conform to the published specifications in effect at the time of sale and are substantially free of defects in material and workmanship. There are no warranties which extend beyond the description on the face hereof. Manufacturer and/or distributors expressly disclaim any and all other warranties, including any warranty of fitness for a particular purpose and/or warranty of merchantability which might otherwise be applicable. In the event of a manufacturing defect, buyer's remedy is strictly limited to refund of the purchase price or replacement. Buyer specifically acknowledges waiver of any claim against either manufacturer or any distributor regarding consequential or incidental damages to person or property, including without limitation damages for loss of use, lost time, loss of profits, lost income or other incidental or consequential damages. Manufacturer and/or distributor reserve the right to make specification and price changes without prior notice or subsequent obligation. Trademarks and Copyrights are the property of their respective owner[s]. Pictures may not represent actual products and are for general representational purposes.